Jaipur Metro Rail Corporation Limited – Status of Jaipur Metro – Route and Metro Stations in Jaipur
The people of Jaipur will soon get rid of the traffic woes and will have their own Metro Lines. The travel will be smooth and very comfortable and will be swift as well. The work on Jaipur Metro is going on war footing and the the first phase is almost ready now.
Date of incorporation of JMRC – 01.01.2010
Date of Commencement of business by JMRC – 20.01.2010
Ministry/Department - Urban Development Department, Secretariat, Jaipur ,Rajasthan
Jaipur Metro project is divided into two Corridors, Phase–I i.eThe East West Corridor and Phase-II the North South Corridor. Jaipur Metro East West Corridor is from Mansarovar to Badi Chaupar, which is 12.067 km long is Phase-I of the Project. The Phase-II project is The North South Corridor from Ambabari to Sitapura with a total length of

32.099 kms.
The Rajasthan Government has established the JMRC or the "Jaipur Metro Rail Corporation Ltd."

as a wholly owned company of the State Government for implementation of Jaipur Metro Rail Project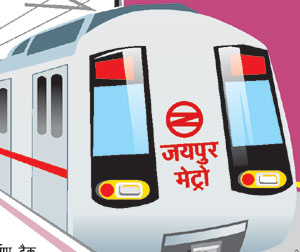 Phase I (

Mansarovar to Badi Chaupar-12.067 kms)

(EPC Mode):
Phase-I-A (Mansarovar to Chandpole)
.
Phase-I-B (Chandpole to Badi Chaupar)
Phase II (

Amba Bari to Sitapura -23.099 kms)

(PPP Mode) :
PHASE -1 Project of JMRC Jaipur Metro -
East West Corridor- Mansarovar to Badi Chaupar
The Elevated track length of Jaipur Metro in this corridor is 9.278 Kms.
There would be an Underground track with the length of 2.789 Kms.
Jaipur Metro Elevated stations from
Mansarovar to Badi Chaupar
There are 8 elevated Metro stations
Jaipur Metro Underground stations
from
Mansarovar to Badi Chaupar
There are 3 underground metro stations
JAIPUR METRO PHASE -2 - Phase II (Amba Bari to Sitapura -23.099 kms)
Jaipur Metro
Underground Stations
from Amba Bari to Sitapur
Jaipur Metro Elevated Stations
from Amba Bari to Sitapur
Jaipur Metro Rail will be one of the most modernised Metros in India. JMRC has alsp plan the Jaipur Metro to integrate with the Bus Rapid Transport Services (BRTS) and other public transport systems to provide a smooth transition from other public transport mode with a seamless interchange and transfer facilities in comfort.
Jaipur Metro will have the facility of Integrated Fare and Ticketing with common ticketing. A Unified Metropolitan Authority (UMTA) has been set up to bring the various public transport wings under a common umbrella, with the proposed BRTS acting as a Feeder route to the Metro Rail.
Contact Details JMRC
Registered Office
Khanij Bhavan
Behind Udyog Bhavan
C-Scheme
Jaipur- 302005